Attracting Talent

An important part of SSPI's mission is persuading the next generation to consider satellite as a career.  The truth is that even young space enthusiasts know little about our business and often fail to consider careers in the only industry that makes money in space today.  
SSPI attracts the next generation of talent to the satellite industry in multiple ways.  We partner with space-related organizations reaching thousands of students to make them aware of the career opportunities avialable in our industry.  We provide access to educational and other grants for students and young professionals.  We also partner with universities and government bodies to offer discounts on tuition and access to grants.  
Donate to the SSPI Next Generation Fund
Our work is made possible by the continuing support of our Corporate Sponsors and donations to the Next Generation Fund.  Thanks to them, we have invested more than $1.3 million in the next generation over the past 15 years and built networks that help the best and brightest find their way into our business.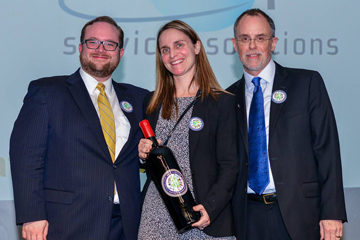 Donate Today
Join our 90-day campaign leading up to the Hall of Fame Benefit Dinner at SATELLITE 2017.  The programs launched in 2015 and 2016 have depleted our Next Generation Fund, and we need to raise an additional $30,000 to pay for even more programs in the future.  A donation takes less than 2 minutes on our website, and you get to pick the amount. All who contribute to the Next Generation Fund between now and March 1st, 2017 will be entered to win. The winners will be announced from the stage at the Hall of Fame Benefit Dinner.  Visit the campaign page and donate today!