The Better Satellite World Awards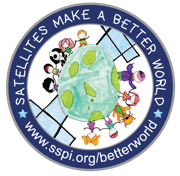 The modern world literally runs on satellite – from data networks and TV to Internet, agriculture, energy and transport – though far too few people know it.  The commercial satellite industry is now attracting a new generation of entrepreneurs and investors dedicated to lowering launch costs, downsizing spacecraft, servicing them in orbit and delivering ubiquitous connectivity at competitive prices.  The Better Satellite World Awards honor established companies and disruptive innovators for continuing to make our world a more prosperous, healthier, better-educated, more sustainable and inclusive home for all humankind.  They are produced by SSPI and its UK and Isle of Man Chapters. 
Awards Criteria
The Better Satellite World Awards are presented to three organizations or individuals who have demonstrated the use of satellite to make a significant contribution to human welfare, good governance, safety, peace and security, improved education and other measures of global good.  To gain an understanding of the intent of the campaign and the criteria used to evaluate nominations, nominators should visit www.bettersatelliteworld.com.
2023 Recipients
The ninth Better Satellite World Award Recipients were announced on October 26, 2023:
Avanti Communications' Rural Connectivity Solution
Avanti Communications' rural solution is a groundbreaking satellite service designed to bridge the digital divide by connecting ultra-rural villages in Nigeria for the first time. This innovative solution has proven key to the Nigerian Communications Commission's (NCC) National Broadband Plan of 2020, which sets out two national goals: to achieve 90% population coverage and a penetration rate of 70% by 2025. Avanti Rural solution uses advanced satellite technology to extend mobile network coverage to the hardest-to-reach areas of Nigeria, that would be impossible to reach using traditional terrestrial infrastructure. This off-grid service is a game-changer in the telecommunications industry, providing cellular services to the most remote communities, and in turn, promoting digital inclusion and socio-economic development. As of 2023, Avanti has deployed over 500 ultra-rural sites in 21 Nigerian states, providing 2G and 3G connectivity to 2.5 million Nigerians. All these areas previously had no connectivity, with residents forced to travel on foot or by local bus to the nearest towns with coverage just to use their mobile phones. Read More...
The Mapping Invisible Populations Project by the International Rescue Committee (IRC) in collaboration with Flowminder and Humanitarian Open Street Map
The Mapping Invisible Populations project is an innovative initiative by the International Rescue Committee (IRC), created in collaboration with Flowminder and Humanitarian Open Street Map. The project was developed in 2023 with the central aim of providing support services to hard-to-reach populations. This initiative primarily targets fragile and conflict-affected areas which may receive less medical and other humanitarian support. Using satellite imagery mapping techniques and GIS methodologies provided by its partners, the Mapping Invisible Populations project gathers satellite and spatial data and combines it with population estimates analyzed by its partners to determine the location of these underserved populations. Subsequently, these estimates are verified by community informants for further corroboration. The objective is to identify populations living in areas that are large enough to justify IRC investing resources, time, and risk to provide medical and humanitarian assistance. Read More...
Maxar News Bureau
The Maxar News Bureau is a unique partnership program that collaborates with renowned media organizations worldwide, focusing on using technology for social good and global transparency. The program is operated by Maxar Intelligence, a leading provider of secure, precise geospatial intelligence. The Bureau leverages the business' satellite imagery, analytics and expertise to complement quality journalism and provide irrefutable evidence in an era where credibility is critical. The Maxar News Bureau has provided high-resolution satellite imagery and analysis for notable reports like The New York Times' 2020 Pulitzer Prize-winning report on Russia's use of shadow warfare and the 2019 Emmy-winning "One Building, One Bomb" story, which reconstructed a chemical attack in Syria. The Bureau's satellite imagery allowed the Times reporters to enhance their storytelling and lend credibility to their reports. In the realm of current events, information is traditionally released by the media, governments or organizations directly involved in the event. The Maxar News Bureau serves as an auxiliary source, providing supporting evidence or context to unfolding situations. Read More...
At the 2023 Better Satellite World Awards Dinner, the UK Chapter of SSPI will also present its eighth annual Satellite Personality of the Year Award to Massimiliano Ladovaz, COO of Eutelsat Group. Learn more about the Satellite Personality of the Year Award.
2022 Recipients
The eighth Better Satellite World Award Recipients were announced on November 1, 2022:
ASTERRA
Potable water systems around the world suffer an average of 15-20% leakage rate, resulting in wasted energy usage, contamination or, in the worst cases, critically low availability of drinking water in already stressed areas. ASTERRA (formerly Utilis) developed and patented a new technology that uses reflected signals from L-Band polarimetric synthetic aperture radar (PolSAR) to detect potable water underground up to 2 meters. Using ASTERRA's proprietary algorithm, potable water can be distinguished from naturally occurring or salt/brackish water. The technology can penetrate foliage and asphalt roadways, allowing detection of water leakage from utility pipes. Once the leaks are identified, field leak inspectors can pinpoint where to search for the source of the problem to repair the damage quickly and with the least possible waste. Read More...
Spire Global
Climate change continues to be a major and developing threat around the world. Spire Global has responded by using space-based data and analytics, provided by its constellation of over 100 multipurpose satellites, to help governments and the private sector monitor, adapt to and reverse the effects of climate change in several ways. Spire's Earth Intelligence data provides crucial information on environmental factors, including sea ice levels and soil moisture, which can be used in climate change research and development of solutions. In addition to Earth Intelligence data, Spire is able to provide advanced weather predictions in a constantly changing climate using weather data collected by its satellite constellation. Spire's weather data and forecasts provide organizations with real-time information to prepare for extreme weather conditions such as wildfires, storms and cyclones and mitigate their effects as much as possible. Read More...
Viasat
When the war in Ukraine began and the immediate resulting refugee crisis occurred, Viasat partnered with the regional government of Košice, Slovakia to provide free high-speed internet access to Ukrainian refugee sites across Eastern Slovakia. Viasat utilized its satellite-enabled Community Wi-Fi system to connect the areas most in need of connectivity. Once these areas of need were identified by the Košice regional government, Viasat's Community Wi-Fi systems were installed in a matter of days to provide critical connectivity available to thousands of refugees. Viasat focuses on unlocking the opportunities provided by internet connectivity for everyone, wherever they are, through its network. Read More...
At the 2022 Better Satellite World Awards Dinner, the UK Chapter of SSPI also presented its seventh annual Satellite Personality of the Year Award to Joseph Dudley & Dr. Heidi Thiemann of Space Skills Alliance. Learn more about the Satellite Personality of the Year Award.
2021 Recipients
The seventh Better Satellite World Award Recipients were announced on November 18, 2021:
Christodoulos Protopapas
Over the course of a more than 25-year career in space and satellite, Christodoulos Protopapas has promoted satellite communications and connectivity across Europe, the Middle East and parts of Sub-Saharan Africa. He founded Hellas Sat, the national satellite operator of Greece and Cyprus, in 2001 and has served as its CEO for 20 years. Today, Hellas Sat operates a fleet of three geostationary (GEO) satellites that serve locations across Europe, the Middle East and parts of Africa. The company has been fundamental to the development of the Greek Space Agency and has contributed to Greece's space infrastructure as a whole, including serving as a facilitator for collaboration between the Agency, academia and local industries. Read More...
Speedcast and Willka Yachay
Speedcast has a long history of providing humanitarian aid and NGO connectivity solutions. Recently, the company partnered with the non-profit organization Willka Yachay to provide connectivity to the Q'eros tribe in the Andes Mountains of Peru. The Q'eros are some of the last living descendents of Incan tribes, and they live a difficult, isolated life without access to modern education, health and technology services. In 2010, an American student named Hannah Rae Porst traveled to Peru and spent time living with the Q'eros for a university project. Some time after leaving the mountain community, she founded the Willka Yachay non-profit organization to give back to those who had accepted her and taught her so much during her time in Peru. Read More...
UltiSat
Beginning in June 2021, UltiSat partnered with the United Nations High Commissioner for Refugees (UNHCR) to provide satellite communications services in support of the emergency operation in the Democratic Republic of the Congo (DRC). The DRC is host to one of the largest internally displaced populations in Africa, with more than 92,000 refugees seeking asylum in its northern region after fleeing post-election conflict in the Central African Republic (CAR). The displacement has placed tremendous strain on the region, prompting the UNHCR's humanitarian efforts to provide much-needed shelter, food and access to medical services for the refugees and the local population attempting to support them. Coordinating such a huge effort requires reliable communication services, and UltiSat stepped up to offer them. Read More...
At the 2021 Better Satellite World Awards Celebration, the UK Chapter of SSPI also presented its sixth annual Satellite Personality of the Year Award to Volodymyr Levykin, Founder and CEO of Skyrora. Learn more about the Satellite Personality of the Year Award.
2020 Recipients
The sixth Better Satellite World Award Recipients were announced on November 5, 2020:
Avanti Communications' Bidi Bidi Project
In 2019, Avanti Communications began to use its satellite technology, which provides coverage across Sub-Saharan Africa, Europe and the Middle East, to improve the welfare of refugees, host communities and humanitarian organisations in one of the largest refugee settlements in East Africa, the Bidi Bidi refugee camp. Avanti partnered with the Social Innovation Academy (SINA) to provide satellite broadband powered by solar energy to the Bidi Bidi site, as electricity is rarely available in the region. This installation is the first of three that Avanti plans to set up in the refugee settlement. Read More...
SATMED Satellite-based Telemedicine Platform delivered via SES satellites
SATMED is an award-winning Luxembourg Government's e-health satellite-based platform that combines medical care, education and health management in one platform that can be accessed from anywhere. It provides doctors with the ability to keep accurate medical records, consult with colleagues and allows better education for health professionals even in the remotest areas, where there is lack of terrestrial infrastructure. SATMED integrates health applications, connectivity and cloud services for securely storing and sharing data, enabling healthcare professionals and institutions around the world to communicate and collaborate easily and effectively. Read More...
SatSure AG
SatSure AG is a DeepTech space applications startup that provides spatial decision intelligence to banking and insurance clients around the world. Their proprietary platform SatSure SPARTA uses satellite imagery, IoT and weather data among others, analysed using various Artificial Intelligence algorithms, to generate usable data insights for banking customers to help them better manage their agriculture portfolios and reduce the non-performing assets through efficient loan recoveries, increase their lending and financial inclusion mandate by adding new customers, planning their market expansion as well as bundling insurance products to protect their portfolio from climate change effects. Read More...
At the 2020 Better Satellite World Awards Celebration, the UK Chapter of SSPI also presented its fifth annual Satellite Personality of the Year Award to Captain Moin Ahmed, Director General and CEO of IMSO (International Mobile Satellite Organization). Learn more about the Satellite Personality of the Year Award.
2019 Recipients
The fifth Better Satellite World Award Recipients were announced on October 23, 2019:
BIRDS Satellite Project
The Joint Global Multi-Nation Birds Satellite (BIRDS) Project was initiated in 2015 by the Kyushu Institute of Technology, Japan with the help of over ten partner institutions. It was envisioned by Dr.  Mengu Cho, Professor at Kyutech, who became Principal Investigator for the Project. The BIRDS Project trains graduate students from many developing countries in using innovative and cost-effective systems engineering during the course of a two-year satellite project. Read More...
Geeks Without Frontiers
Geeks Without Frontiers (Geeks) is a platform for global impact. A technology neutral nonprofit, Geeks' mission is to bring the benefits of broadband connectivity – health, education, poverty reduction, gender equality and the other UN Sustainable Development Goals ( SDG's) – to the estimated 3.5 billion people who remain unconnected. Sponsored by government and private-sector stakeholders, Geeks has developed a commercially sustainable, satellite-based connectivity model, designed to help address forced labor and human trafficking in the commercial fishing industry. Read More...
UK Space Agency – International Partnership Programme
The UK Space Agency's International Partnership Programme (IPP) is a five-year, £30M/year 'space for development' programme established in 2016, and currently the largest undertaking of its kind in the world. It focuses on utilising the UK space sector's research and innovation capabilities to deliver sustainable economic and societal benefits to emerging and developing economies around the world. IPP has so far grant-funded 33 projects in 44 countries across Africa, Asia-Pacific and South America, which are run by a large variety of UK and international organisations across industry, academia and non-profit entities. Read More...
At the 2019 Better Satellite World Awards Dinner, the UK Chapter of SSPI also presented its fourth annual Satellite Personality of the Year Award to Ian Jones, CEO of Goonhilly. Learn more about the Satellite Personality of the Year Award.
2018 Recipients
The fourth Better Satellite World Award Recipients were announced on October 25, 2018:

Crisis Connectivity Charter
The Crisis Connectivity Charter is a mechanism created between the satellite industry and the wider humanitarian community, which is designed to make satellite-based communications more readily available to humanitarians and affected communities thanks to pre-defined and pre-set solutions allowing immediate response at times of disaster. Read More...

DARA (Development in Africa with Radio Astronomy)
The DARA project (Development in Africa with Radio Astronomy) is led by the University of Leeds School of Physics and Astronomy and supported by Goonhilly Earth Station Ltd. as an industry partner, as well as partners including the South African Radio Astronomy Observatory, the South African National Space Agency and the Universities of Hertfordshire, Manchester, Oxford, Bristol and Central Lancashire. The project aims to develop high tech skills through training in radio astronomy in a number of African countries: Botswana, Ghana, Kenya, Madagascar, Mauritius, Mozambique, Namibia and Zambia. Read More...

Kacific Broadband Satellites International
Kacific is a next-generation broadband satellite operator delivering broadband to the Pacific and Southeast Asia, providing in many areas, affordable capacity for the first time.  The company has built a digital platform and management ecosystem to provide satellite internet even to the most dispersed rural populations, allowing local service providers, telecom infrastructure providers, tourism industry leaders, local governments, regional aid programs and local companies to improve their operations and offer more services. Read More...
At the 2018 Better Satellite World Awards Dinner, the UK Chapter of SSPI also presented its third annual Satellite Personality of the Year Award to Greg Wyler, Founder and Executive Chairman of OneWeb. Learn more about the Satellite Personality of the Year Award.
2017 Recipients
The third Better Satellite World Award Recipients were announced on November 21, 2017:

The DStv Eutelsat Star Awards
The DStv Eutelsat Star Awards were initiated in 2010 by Eutelsat in partnership with its long-term African video client MultiChoice. The program is a pan-African competition designed to expose young people throughout the continent to satellite technology and its potential for advancement in Africa. During the contest, students aged 14 to 19 are encouraged to analyze the practical applications of the scientific principles they learn in school with the intention of envisioning new ways satellite technology can serve their continent's specific needs.  Read More...

MEOLUT Next
MEOLUT Next is Thales Alenia Space's newest contribution to satellite search and rescue efforts to save more lives. It is a 2-meter compact phased array antenna that may be deployed on a rooftop without the need for additional heavy infrastructure. The MEOLUT Next is part of the Cospas/Sarsat free global search and rescue service, transmitting detected distress signals immediately to those who can help. Read More...

Teledyne e2v
Teledyne e2v's visual image sensors have played a key role in helping us learn more about the long-term health of our planet, embedded as part of many Earth observation satellites, including those of the Sentinel and Earth Explorer programs. The sensors deliver highly detailed images for resource, disaster and ocean monitoring, and land mapping. This data can then be used to inform government and private industry environmental policy to help protect Earth's future. Read More...
At the 2017 Better Satellite World Awards Dinner, the UK Chapter of SSPI also presented its second annual Satellite Personality of the Year Award to Mrs. Magalie Vaissiere, ESA's Director of Telecommunications and Integrated Applications. Learn more about the Satellite Personality of the Year Award.
2016 Recipients
The second Better Satellite World Award Recipients were announced on November 17, 2016:

DigitalGlobe
DigitalGlobe is the world's leading provider of high-resolution Earth imagery, data, and analysis. The company has also become a leader in providing humanitarian aid by supplying local, national, and international authorities and media with imagery and information products that support response and recovery activities in the aftermath of earthquakes, floods, hurricanes, and other natural disasters. Read More...

Disaster Tech Lab supported by Globalstar
Disaster Tech Lab (DTL) is a volunteer-based organization that provides internet access to reconnect disconnected communities in disaster zones across the globe. Established in 2010 after the devastating earthquake in Haiti, the organization has grown to over 200 volunteers in eleven countries. Since its founding, DTL has deployed teams to almost every major disaster area across the globe. Read More...

Global VSAT Forum
Since 1998, the Global VSAT Forum has provided a platform for satellite regulatory issues and professional training in VSAT technologies for organizations around the world. In addition to promoting market liberalization, licensing reform and spectrum access, GVF has established an online training and certification program for VSAT terminal installers and operators, which has enrolled more than 13,000 professionals. GVF has also worked for nearly 20 years to establish a more effective and sustainable paradigm for global disaster preparedness. Read More...

Outernet
Syed Karim, the founder of Outernet, describes it as "a universal information service available to all of humanity." Founded in 2014 as a private company headquartered in Chicago, Outernet now provides a global data delivery service over three Inmarsat I4 global beams. The company provides a content delivery service which focuses on making the most useful knowledge from the Internet available to those in areas with no connectivity.  Read More...

The UK Chapter of SSPI also presented its first ever Satellite Personality of the Year Award in 2016 to Catherine Mealing-Jones. Learn more about the Satellite Personality of the Year Award.
2015 Recipients
The first ever Better Satellite World Award Recipients were announced on November 17, 2015:
 
Afghanistan Village Networks, by Globecomm in partnership with Afghan Telecom
Since 2004, companies such as Globecomm have been providing satellite & terrestrial services to build the much-needed communications infrastructure of Afghanistan.  It is a quiet success in what is one of the most challenging environments in the world. Read More...
 
emergency.lu by SES
The emergency.lu system is a global VSAT-based, multi-layer communications platform that immediately fills the gap at the onset of large-scale disasters. In addition to a global VSAT network, it provides the prepositioned equipment, always-available satellite capacity, rapid deployment from air rescue jets and a suite of applications to provide humanitarian responders with connectivity as well as communication and coordination facilities. Read More...
 
Inmarsat
Established originally as an international treaty organization (nonprofit) with a singular mission to create a global network providing emergency communications for ships at sea, Inmarsat enabled significant growth in seaborne trade and facilitated operator and worker safety in the offshore energy industry. The organization has grown and its aeronautical data service is the world's only source of reliable information of its kind.  Read More...
 
Peter B. de Selding
Peter B. de Selding, the Paris bureau chief for SpaceNews, is the dean of space and satellite reporters.  The sheer volume of his output, his integrity, reputation and authority continues to influence leaders, decision-makers in government and finance, and the course and understanding of the industry in substantive ways. Read More...
About the Better Satellite World Campaign
Mobile phones have satellite inside. So do TV programs and computer networks, weather reports and military operations, public safety and transportation systems, retail payments and the world's financial markets. Satellite professionals know the immense contributions our technology makes to human welfare, commerce, government, security and safety.
And it is time we told the world about it – because too many people think of satellite only when they see a news story about a launch failure or a natural disaster where satellite is the last resort for communications. That lack of awareness has tangible results: regulatory assault on our spectrum, lack of government funding for satellite solutions to the digital divide, the customers in new markets who will never give satellite a try.
SSPI has begun writing a new story. Working with partner associations and the leading companies in our business, we have a launched a campaign, How Satellites Make a Better World (www.bettersatelliteworld.com), to change the global conversation about satellite. It won't be easy or quick – but a successful campaign will help level the playing field between satellite and its competition and expand the opportunities available to our industry.
Sponsors
The Better Satellite World Awards are presented at an elegant dinner at One Whitehall Place in London, which is made possible by the underwriting support of our sponsors. Contact our Director of Engagement for a sponsorship prospectus.