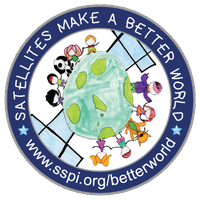 (New York City, 28 July 2022) – Space & Satellite Professionals International (SSPI) today opened nominations for the 2022 Better Satellite World Awards. The winners will be honoured at the Better Satellite World Awards Celebration on 5 December. Nominations are due by 16 September 2022.
As part of its Better Satellite World Awards Celebration, SSPI honours three organizations that have demonstrated the use of satellite to make a significant contribution to human welfare, good governance, safety, peace and security, improved education or other measures of human achievement. The Better Satellite World Awards are produced by SSPI and its UK and Isle of Man Chapters. Click here to learn more about the awards and past winners.
Previous recipients of Better Satellite World Awards include the United Nations' Crisis Connectivity Charter, SATMED e-health satellite platform delivered by SES, the Bidi Bidi project in sub-Saharan Africa of Avanti Communications, and Speedcast's support for Peru's Willka Yachay nonprofit, among many others.
"For the first time since COVID the awards ceremony will return live to London, thanks to our UK Chapter," said SSPI Director of Innovation Lou Zacharilla, who will emcee the event. "We are excited about this and equally excited that after many years of creating a global awareness of the good that satellites accomplish, almost by their very nature, companies and organizations have the concept of a 'better satellite world' embedded in their mission statement. This year's nominees will be incredibly inspiring given the growth of our industry."
Nomination forms are available on SSPI's website.

About the Better Satellite World Campaign
The modern world literally runs on satellite – from data networks and TV to Internet, agriculture, energy and transport – though far too few people know it. The commercial satellite industry is now attracting a new generation of entrepreneurs and investors dedicated to lowering launch costs, downsizing spacecraft, servicing them in orbit and delivering ubiquitous connectivity at competitive prices. The Better Satellite World campaign shows the world why our industry, though often invisible, is indispensable to modern life, through powerful stories and videos that depict space and satellite technologies contributing to the economy, society and sustainability of planet Earth. More at www.bettersatelliteworld.com.

About SSPI
Founded in 1983, Space & Satellite Professionals International (www.sspi.org) is on a mission to make the space and satellite industry one of the world's best at attracting and engaging the talent that powers innovation. The space and satellite business has never seen a time of greater experimentation and disruption than we see today. Investment is the fuel for transformation, but people are the engine. SSPI helps the industry attract, develop and retain the talented people it needs to keep the engine turning. People who connect through high-profile events and gain recognition from prestigious awards. People who rely on SSPI for a broader understanding of the industry as much as for individual networking and career mentoring. From young people seeking a career path to industry veterans with wisdom to share, SSPI connects them all.
Talent, investment and opportunity flow to industries that make a difference. SSPI is the only organization that also promotes the enormous value of space and satellite through dramatic stories of our technologies and companies making a better world. Those stories overturn misconceptions about the industry that hold it back. They inspire our people and attract new ones to the industry. They help justify investment and give new customers a reason to care about our services and products. Through the stories we tell and the people we serve, SSPI inspires the growth of the $1 trillion space economy of the future.

For More Information
Victoria Krisman
Communications Manager
Space & Satellite Professionals International
vkrisman@sspi.org
---